The Ontario Tech Ucard is one of the most important pieces of identification (ID) that students, faculty and staff have. It identifies you as a member of the Ontario Tech community, and gives you access to various facilities, resources and services, both on- and off-campus.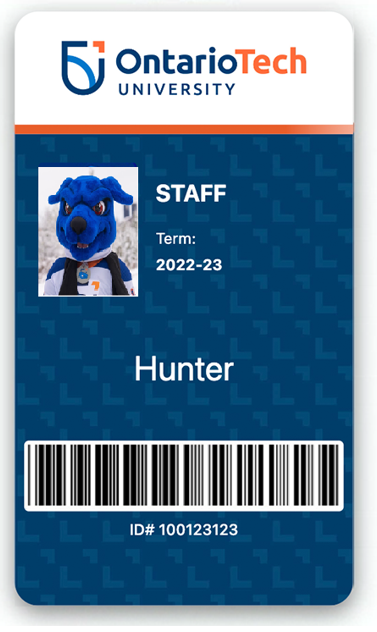 Digital Ucard
Your digital Ucard has a fresh new look with enhanced features! You can access it through our Ontario Tech Mobile app. If you have not yet downloaded the app, search for Ontario Tech Mobile in your device's app store.
As a student, your physical and/or your digital Ucard photo ID can also be used as identification during mid-terms, exams, etc. Note: Your photo must be uploaded and approved before using your digital Ucard as identification for mid-terms and examinations. Digital Ucards without a corresponding photo will not be accepted. To upload your photo, visit our Ucard photo upload requirements web page.
If you do not have your Ucard for your mid-terms, exams, etc. your valid government-issued photo ID will be accepted. These include:
Driver's licence
Passport
Canadian citizenship card
Permanent resident card
Provincial photo ID card
For more information on our examination policy in relation to your Ucard, visit our Procedures for Final Examination Administration web page.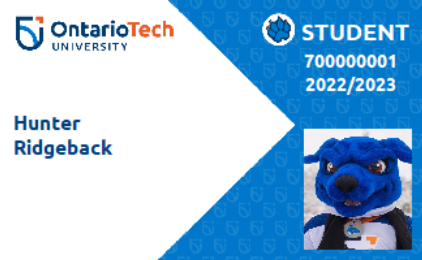 Physical Ucard
If you are new to our campus community, picture yourself on our Ucard. Visit our How to get a Ucard web page for more information on how to submit your photo online.
Physical cards will only be issued to those with specific requirements outside of the digital Ucard. (i.e. Nursing student badges for placements, meal plan access, proximity (prox) access to rooms, etc.). If a physical Ucard is still requested, a $10 administrative fee will apply. For more information, please visit the Ancillary Fee Breakdown web page.
Important information
Students, faculty and staff with an approved photo on file can access their digital Ucard through our

Ontario Tech mobile app

. If you have not yet downloaded the app, search for Ontario Tech Mobile in your device's app store.

Your digital Ucard must include a photo for it to be considered valid. If your photo is missing, "Invalid without photo" text will appear in the photo field.

Your credentials will be valid for the duration of your program or employment at Ontario Tech.

Returning students

 with a physical Ucard are no longer required to update their card annually. Instead, you must retain your existing physical card or access your digital Ucard for future use.

The U-Pass is no longer part of the Ucard, and is now issued to eligible students digitally through the PRESTO E-Tickets app. For more information, visit the

U-Pass web page

.
Select your status below for more information: